Cypress Concrete & Masonry | Driveways, Patios, Pool Decks & More
The Leaders in Concrete and Masonry in Cypress, California
Are you looking to have some work done either with concrete, brick, or natural stone? Perhaps a little dash of all three? Well look no further. Cypress Concrete Pros is always the smartest choice in the business.
We're happy to help with all of your Cypress concrete and masonry needs. One call to (714) 364-0696 is all it takes to get you on your way. But first let's get a little more in depth about what we do.
We've been operating in the area for a long time. Our finger, it could be said, is always on the pulse of what home and business owners expect from a great contractor. We're familiar with architectures both contemporary and traditional. Study of the environment and the people who live here gives us a leg up on trending ideas. Sometimes it's as if these ideas blow in with the Santa Ana winds; other times the process is more gradual. Whichever the case, we always consider ourselves ahead of the curve.
Concrete is capable of just about any construction project it gets employed to undertake. All of that potential means years of practice in the field to make it work just right for you. And years of practice is exactly what we own. Colored concrete, stamped concrete, and concrete staining are just some of the services we offer. But why touch on a skill and rush off?
That isn't our style. Have a gander at what you get when you call (714) 364-0696 for concrete services free estimates.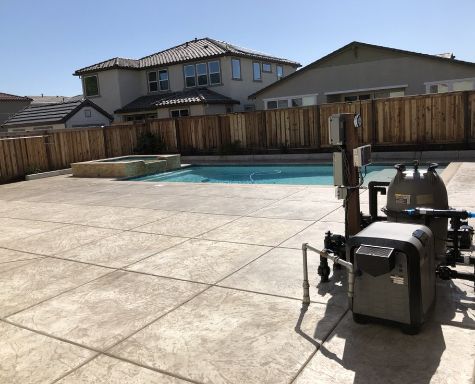 Cypress Concrete Contractor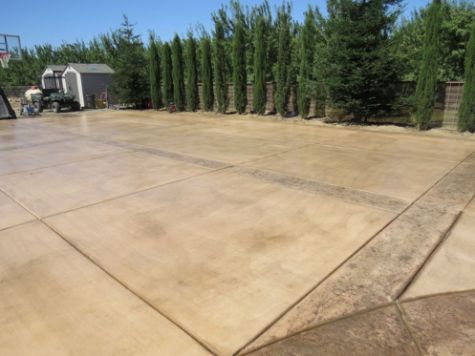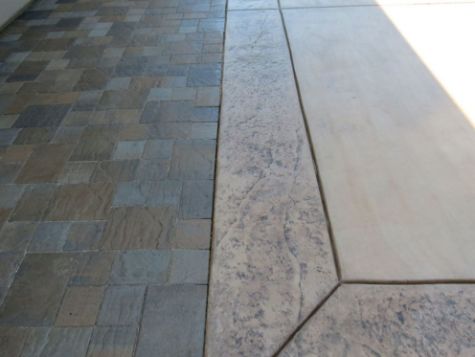 It's a valid argument that the driveway isn't just a place to park your car—it's a home's first great chance to give a great first impression. An attractive driveway gives property what realtors love to call curb appeal. This might include things like quality stamped concrete service or colorful decorative concrete.
Your driveway might curve delicately around a cypress tree or open onto a parking area stamped and colored to look like real wood. Or who's to say it can't do both? Not the team of experts you'll find with a call to us.
Dial (714) 364-0696 for free estimates.
We use douglas fir wood for our forms. We can craft your driveway using poured concrete or concrete pavers. Poured concrete is strong and with the use of a frame (or form) is easy to install. You'll get a look smooth or textured, colored or plain. This same goes even more so with concrete pavers, which are created off-site and laid down piece by piece. Pavers can get really intricate with their designs, which makes them a popular choice. Damaged pavers are also quite easy to replace.
Get a new driveway when you call the best concrete driveway contractor, dial (714) 364-0696 for free estimates.
The neat thing about patios is their coziness. Visitors might admire the work on your driveway, nod in approval of a conrete walkway, then marvel over granite countertops (all of which we master) in the kitchen without the slightest idea they're about to be bowled over by an absolutely gorgeous patio just outside the sliding doors. But gorgeous concrete patios are one of our specialties, so you might want to have some smelling salts on hand to bring those visitors back around after they swoon.
Give us a call at (714) 364-0696 to get free quotes.
With our stamped concrete services we can get your patio to replicate natural stone. We'll also create the design of your choice. Then again any Cypress concrete contractor may boast as much. For us it's not just about the job—that wouldn't be enough. For us it's more like a pursuit of architectural perfection. Quality work is the only kind of work that should exist.
We are ready to work on our next patio projects.
Get in touch with Cypress Concrete Pros to get a patio that your friends and family will marvel at, call us now at (714) 364-0696.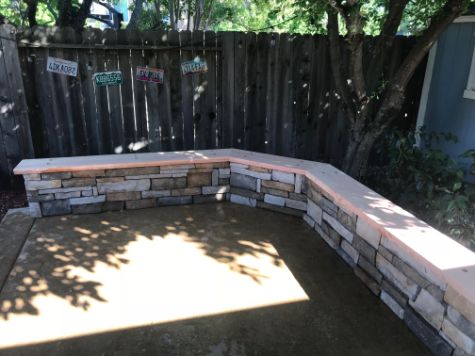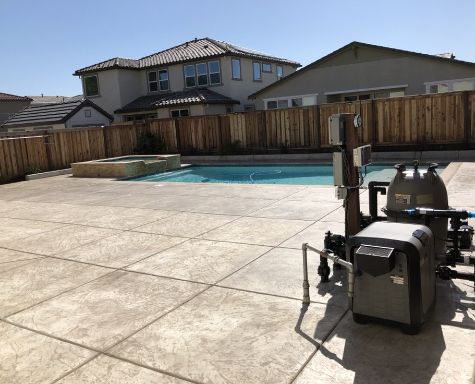 Which doesn't mean quality should ever impede upon safety; in fact safety is a part of quality, and on a pool deck the feature is an absolute must. That's why part of our stamped concrete service includes broom finished and salt finished concrete. Both create a surface easier to walk on when wet.
And what about that sizzling Los Angeles sun? Hours in direct heat can cause some concrete pavers to get temperamental with sensitive feet. Should this be the case our cool deck topping can keep surfaces from getting too hot and burning the skin.
Dial (714) 364-0696 for free estimates.
Need an outdoor fireplace for after-dark barbecue parties? A pool deck or patio are perfect places for such. Many of our clients ask for pizza ovens in those fireplaces, which is not a problem.
Pool decks are another popular place for colored concrete as well. Don't want your pool coping to necessarily match the deck? No problem. We can make designs that work together or in contrast.
Let us know and we'll take it from there.
Walls can keep people in or keep them out. They can enclose decks, patios, or the whole of your property. You may just need a little garden box. Perhaps you'd like a retaining wall to support a bit of hillscape. We build concrete walls in many different sizes, colors, and designs.
The choice is yours. And because your dedication to a job well done doubtless matches our own, we're always going to be on the same page.
Contact  (714) 364-0696 today for free quotes.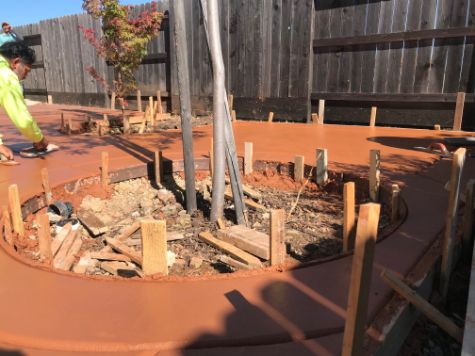 A lot of the above talks about installation. For new homeowners that's fine. But what if you're looking to improve upon a feature that's been in place for a long time? Ripping everything up and out is not always required. Our concrete repair service and concrete refurbishing is just the ticket for needed refreshment. Concrete grinding means smoothing over an old surface with a high velocity machine before applying more cosmetically appealing material. This material often involves concrete overlay.
And while we're on the subject of beauty, how about an outdoor kitchen for that patio or pool deck? We'll give it concrete countertops stamped to look like natural stone. This same can go for your solarium, kitchen, or bathroom floor.
The above covers just some of the concrete services we offer.
To find out more please don't hesitate to call (714) 364-0696.
Cypress Masonry Contractor
Concrete puts on a pretty good front when done by professionals like us. An untrained eye won't know the difference between real natural stone and concrete stamped to look the part. But for some clients it just isn't enough. They must have brick. They must have natural stone. We bring both to the site with unmatched prowess. Your home or business deserves no less.
Starting with natural stone, these quarried materials are not only beautiful all on their own, they're also capable of just about anything concrete can do (aside from changing colors like a chameleon). Stone walls look amazing in sandstone, limestone, or granite, and we cover them all.
You may also want your vertical surface to be decorated in stone veneer, which are thin slabs of real stone placed over a concrete backing.
Stacked stone is another interesting choice for walls when you want jagged texture that tends to shine when light penetrates its multiple crevices.
Paver stones are more durable and are commonly used for horizontal surfaces like walkways and patios. Marble, travertine, and cobblestone make excellent choices for these uses and are sure to get compliments from all who see them. Natural stone pillars will also turn heads.
We can erect them at the foot of your driveway, entrance to your home or business, or pretty much anywhere else you desire.
Lots of stone works well for fireplaces, basalt and soapstone in particular, so give us a call if you want one of these as well.
Remember the number? Call (714) 364-0696 to get free quotes today.
Like stone pavers, brick pavers are made to lie flat on ground for heavy passage. This makes them an excellent choice for driveways, pool decks, stairs, and patios. Oh, and whose mind doesn't immediately leap to brick when they think of fireplaces?
Cypress Concrete Pros carries a reputation for amazing outdoor fireplaces unparalleled by anyone else in the business.
We can also build many styles of brick walls including straight, serpentine, solid, cavity, or veneer. Dial (714) 364-0696 today to get free quotes and estimates.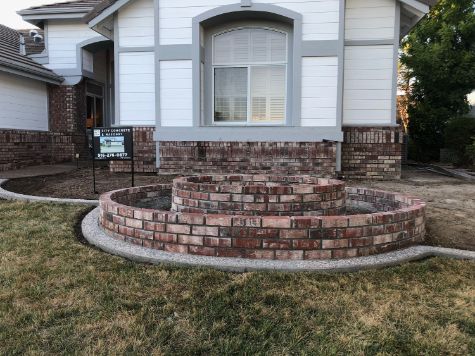 Retaining walls are another of our specialties well known by property owners who appreciate the perfect combination of function and beauty.
Whether you choose concrete, brick, or natural stone, these walls will support a sloping landscape as well as make for a handsome welcome to visitors.
A good retaining wall also slows down the passage of water after a rain, thereby reducing erosion.
Get started today, dial (714) 364-0696 for free quotes.
The above doesn't cover everything we bring to the table. Frankly, that might take awhile, and we're not here to use up your time; we're here to enhance your real estate. Other ways to do that might be with:
Marble flooring
Granite countertops
Block fireplaces
Concrete countertops, Granite countertops, Stone countertops
You get the idea. Cypress masonry doesn't get better than the quality we ensure. Dial (714) 364-0696 today to get free estimates.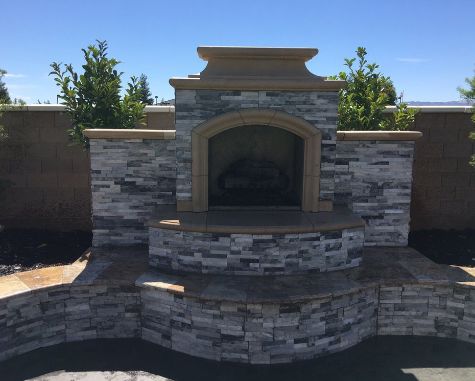 Cypress Concrete Pros have been serving the concrete needs of homeowners for years. We proudly serve concrete work in the following cities: La Palma, Cerritos, Hawaiian Gardens, Los Alamitos, Stanton, Westminster, Rossmoor, El Dorado Park, Bellflower, and Buena Park. If you're interested in getting a quote on your next project please fill out our contact form with as much detail about your project as possible. Our team will get back to you promptly with an estimate and we'll be happy to answer any questions that you might have during this process.
Contact Cypress Concrete Pros For More Information
In fact with just one call to Cypress Concrete Pros we can prove everything. We've been working with concrete and stone for many years. Our team is professionally trained to be…well, professionals. Not only that, the men and women who comprise it love what they do. Pick up the phone today and call (714) 364-0696 for first-rate construction that goes hand in hand with great service.