Cypress Concrete Services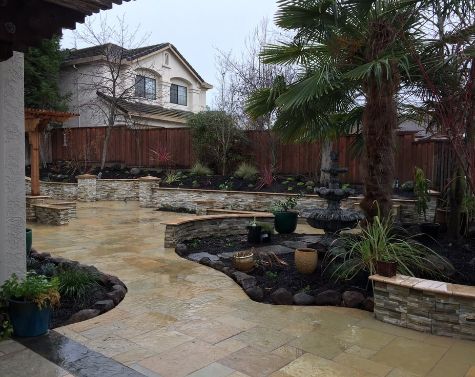 We could probably fill up an entire book with the services we provide. This is, after all, not only your top of the line concrete contractor for all of Orange County, but the most extensively trained as well. So really, it almost goes without saying that whatever your need in concrete, brick, or natural stone construction, you're going to find it right here at Cypress Concrete Pros. Dial (714) 364-0696 to get free estimates.
Excellent Concrete and Masonry Services in Cypress, CA
Having said as much, we also know that it isn't every day one has time to read a book, so allow us to condense things just a bit with the following: 
Driveways
Not many features speak curb appeal like a well-constructed driveway. That's why we build them in many different styles and colors. Brick paver driveways create a wonderfully colonial appearance. Or, keep things no-nonsense with our concrete slabs—though like with pavers, these can be stamped with myriad designs. The strength and beauty of a granite driveway are seldom put into question. All these, plus so many more options are yours when you put our trusted team on the job.
Pool Decks
Moving to the back of your house, a pool deck often represents the crown jewel of any estate. We build them to fit that moniker in any way a client sees fit. Travertine is not only gorgeous but reassuringly non-slip. We can also decorate concrete pavers or slabs with a special finish to make traversal safer. As for pool coping, well, few styles can match that of brick, but no matter what material you may prefer, the right team to call is here at Cypress Concrete Pros. 
Retaining Walls
Where to begin with the importance of a quality retaining wall? We can answer that question:  The best retaining walls (like the ones we build) slow down soil erosion and increase the stability of the landscape. Our own retaining walls, be they in brick, concrete, or natural stone, also look great doing this, and will perform their task for decades to come. 
Outdoor Fireplaces
An outdoor fireplace from Cypress Concrete Pros creates a cozy atmosphere for all who huddle around it. For patios or pool decks, they make an excellent complementary piece that guests won't soon forget. You'll love lounging beside it after a hard day's work, or watching the flames dance after dark. Find out just how right we are by letting us build one for you.
 Kitchen Countertops
A lot of debate has gone into what is the all-around best countertop for kitchens. Granite is hugely popular for its looks and strength but does tend to dull knife edges that make contact with it. Soapstone is an excellent choice to complement older homes, though it tends to scratch over time. And then there's marble, which is absolutely gorgeous yet difficult to repair. We can clear the cobwebs of confusion for you today by having a look at the kitchen in question and making a plan from there.
These are but a few of the services available from Cypress Concrete Pros. To discover even more, give us a call at (714) 364-0696.
We bring you the most trusted concrete and masonry contractors in Cypress providing services, both for residential and commercial properties.
Among the services we offer include:
Dial (714) 364-0696 to get free quotes today.