Best Quality Contractors in Cypress, California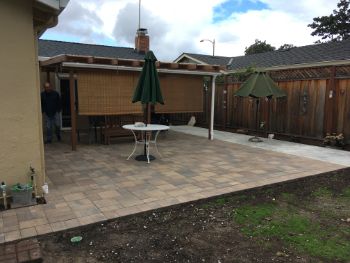 Stamping concrete to be applied on your patio can give you an array of options for improving your yard's appearance. The stamped concrete also allows you to choose from a myriad of color and pattern options, which means that your imaginations can only limit your compound's appearance options. With Cypress Concrete Pros, the leading concrete contractor around, you can make your dream for a better and more elegant yard come true.
Contact Cypress Concrete Pros for a free consultation about stamped concrete patio in Cypress.
Call us via (714) 364-0696 or fill out the contact form on this page to let us know what we can do for you.
About Cypress Concrete Pros
Cypress Concrete Pros, as the name will tell you, is a company with specialties in everything concrete. We are also a trusted masonry contractor and with the primary goal of ensuring that you get the right results and value on your investment. Since we have brought together a team with decades of combined experience and top industry skills, we can assure you without a doubt that you are dealing with an unbeatable team.
Stamped Concrete Patio Contractor Cypress
Cypress Concrete Pros can install stamped concrete patios for decorative purposes on all your yards. If you desire to have a more enhanced appearance of your yard, a stamped patio can come in handy with plenty of combined color options for a high-end appearance. With this versatility in terms of colors and patterns, you can pick any appearance that you want for your yard or even go a little bit wild and combine several options.
With stamped concrete, you enjoy the following benefits on your patio:
Affordability since the price of concrete is considerably low compared to other materials such as pavers, brick, and stone.
Ease of maintenance.
A firm and long-lasting patio
A non-slip surface if a non-skid additive is used to treat the surface of the patio before the concrete dries off.
An enhanced curb appeal on your yard and an added value on your property
Limitless choice of colors and patterns
Popular Stamped Concrete Patterns Usually Used for Patios
Among the most common stamped concrete patterns that one can use for their patios include:
Bricks
Ashlar slate
Random stone
Wood stamped concrete
As for the color options, one may choose from the list below:
Surface Applied Color – These include stains, dyes, and tinted release agents. These options can also be used with the integral coloring and dry-shake color hardeners to help the textures appear more like the natural materials they are made to resemble.
Integral Color – The integral color, in this case, is mixed into the concrete mix and works best for earth tones as well as pastels.
Dry-Shake Color Hardeners – In this case, the color and hardeners are usually applied on the surface of the concrete to provide enhanced and more intense color palettes. They also serve to enhance the concrete's strength and density.
Upgrade Your Patio with Cypress Stamped Patio Contractor
If you have an old patio that you would want to upgrade, let Cypress Concrete Pros do it for you. We are always at your disposal and a call away to discuss your project needs, whether it is for new stamping or upgrading works. Talk to us now, and we shall send an expert to assess the job requirements and project deliverables and also draft a free quote for you.
Call our main phone number (714) 364-0696 now and speak to an expert.
You can fill out the form on this page with your information and inquiry message, and our team will respond as soon as possible.